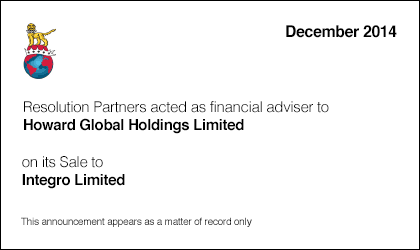 Sale of Howard Global and Galileo
Howard Global is the leading independent Lloyd's bloodstock insurance broker and underwriting group and also provides broking services in other niche areas including Personal Accident. Galileo is the group's majority owned in-house bloodstock MGA underwriting on behalf of Swiss Re and Scor. Integro, a US based insurance broker and risk management firm, acquired Howard Global together with the minority interest in Galileo.
Read more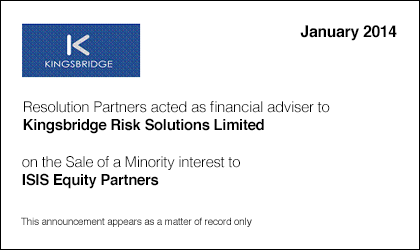 Private Equity Capital Raising
Kingsbridge is a UK-based commercial broker specialising in the waste & water industries and it also distributes PI package covers online to freelancers under the KPSol brand. In addition it provides other risk management services including captive and protected cell formation and management services.
The transaction raised replacement and growth capital from ISIS Equity Partners (renamed Living Bridge) in return for a minority stake.
Read more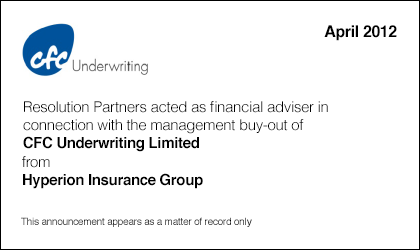 MBO of CFC Underwriting
CFC was formed in 2000 by David Walsh, with backing from Hyperion Insurance Group, as an underwriting business focusing on insurance for technology companies and e-risk.
It has grown into one of the leading MGAs in London with clients in over 50 countries around the world.
Read more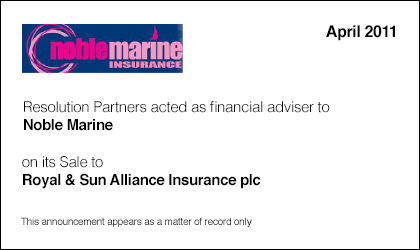 Sale of Noble Marine
Noble Marine is a leading, high margin specialist intermediary / MGA operating in a very profitable niche segment of the marine sector.
The transaction involved the sale of the business to Royal & Sun Alliance Insurance plc.
Read more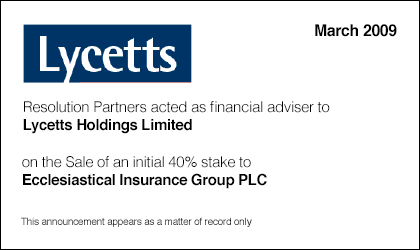 Sale of Minority stake in Lycetts
Lycetts is a leading independent commercial insurance broker specialising in farms & estates, HNW property and bloodstock insurance and financial services.
Ecclesiastical Insurance Group emerged as Lycetts preferred partner after a review of Lycetts strategic options
Read more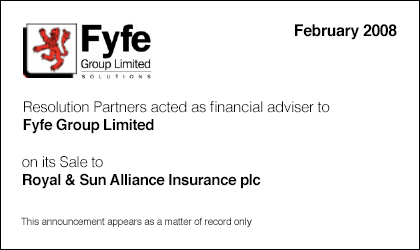 Sale of Fyfe Group
Fyfe Group was a high margin specialist broker operating in a niche segment of the motor trade business
The principal shareholder, Mike Slack, was a non-executive director of the FSA
The transaction involved the sale of the business to Royal & Sun Alliance Insurance plc
Read more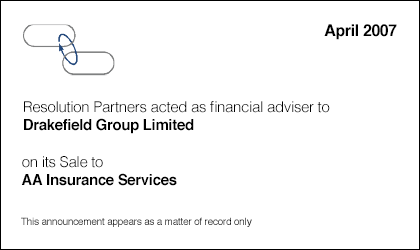 Sale of Drakefield
Resolution Partners advised the shareholders of Drakefield in connection with its sale to AA Insurance Services.
Drakefield is a leading independent provider of branded online travel insurance under the Go Travel Insurance and 1 Stop Travel Insurance brands backed by a call centre in Basildon. In addition it arranges and administers travel insurance policies for Admiral, Elephant.co.uk, Diamond and Bell.
Read more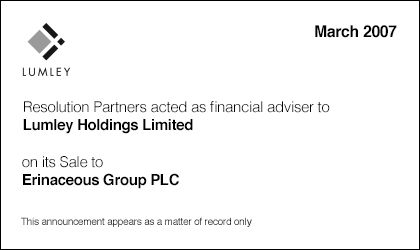 Sale of Lumley Letsure
Resolution Partners advised the shareholders of Lumley Holdings in connection with its £12m sale to Erinaceous Group Plc.
Lumley Holdings' principal subsidiary, Lumley Letsure is a leading independent insurance intermediary with GWP of £16m. It specialises in the distribution of commercial and residential landlords' buildings and contents insurance; tenants' contents and rent guarantee insurance; and tenant referencing services through a ...
Read more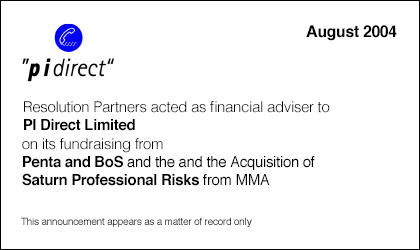 PID's Acquisition of Saturn
Prepared PI Direct for bank and private equity discussions
Advised on the selection of the preferred private equity partner
Secured attractive valuations for both PID and Saturn
Read more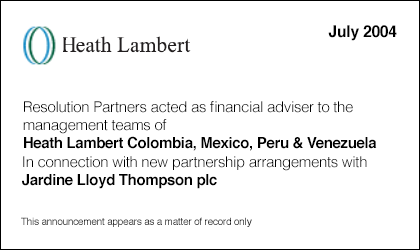 Heath Lambert Latin America
Advised the management teams / minority shareholders on the selection of the preferred partner
Structured the transaction to provide initial consideration and deferred put & call options – total maximum consideration $143m
Read more