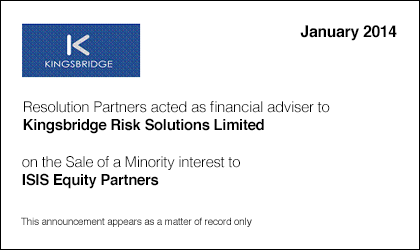 Kingsbridge is a UK-based commercial broker specialising in the waste & water industries and it also distributes PI package covers online to freelancers under the KPSol brand. In addition it provides other risk management services including captive and protected cell formation and management services. The transaction raised replacement and growth capital from ISIS Equity Partners (renamed Living Bridge) in return for a minority stake.
Key features of the transaction include:
Kingsbridge had had a number of approaches over the years, none of which really fully addressed the shareholders' aspirations.
Transaction enabled the shareholders to take some money off the table, retain control and get support for the business' growth plans.
The transaction is distinctive in that owner-managed UK brokers have found it difficult to raise private equity capital in recent years unless they wanted to embark upon a buy-and-build strategy.