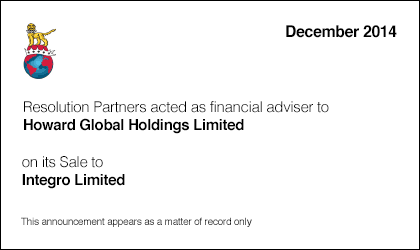 Howard Global is the leading independent Lloyd's bloodstock insurance broker and underwriting group and also provides broking services in other niche areas including Personal Accident. Galileo is the group's majority owned in-house bloodstock MGA underwriting on behalf of Swiss Re and Scor. Integro, a US based insurance broker and risk management firm, acquired Howard Global together with the minority interest in Galileo.
Notable features of the transaction include:
Transaction effected via a discreet and focused marketing – excellent demand received from both UK and International insurance groups;
Resulting high valuation reflected the combination of both a specialist wholesale broker and in-house MGA in the same group; and.
Deal structured with a high level of flexibility so as to enable certain shareholders to sell at completion and others to realise their investment in due course.