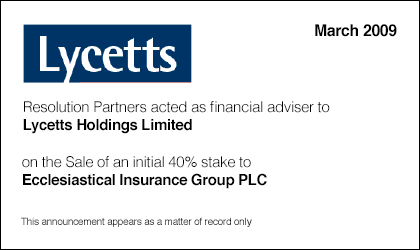 Lycetts is a leading independent commercial insurance broker specialising in farms & estates, HNW property and bloodstock insurance and financial services. Ecclesiastical Insurance Group emerged as Lycetts preferred partner after a review of Lycetts strategic options.
Key features of the transaction:
All shareholders were able to realise some cash at Completion;
Retired shareholders were able to crystallise the value of their remaining shareholdings and obtain liquidity over a fixed period;
Management and employee shareholders have an ongoing equity participation in the business with the ability to sell their shares at an attractive formula price over a five year period
The transaction preserves the operational independence of Lycetts and was negotiated and completed against the backdrop of extremely volatile and difficult conditions in the global financial markets.