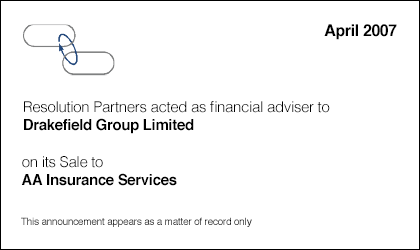 Resolution Partners advised the shareholders of Drakefield in connection with its sale to AA Insurance Services. Drakefield is a leading independent provider of branded online travel insurance under the Go Travel Insurance and 1 Stop Travel Insurance brands backed by a call centre in Basildon. In addition it arranges and administers travel insurance policies for Admiral, Elephant.co.uk, Diamond and Bell. Resolution Partners identified the transaction opportunity, introduced the parties, and negotiated the terms of the transaction. Notable features of the transaction were as follows:
Transaction effected via a 'Rifle-shot' approach – despite expected high level of demand for the business from both brokers, MGAs and insurers;
It involved the combination of Drakefield's business with the AA's travel insurance business, thereby creating a business with c. £15m GWP with significant cross-sell opportunities;
It enabled Drakefield Management to realise some cash at Completion and provided a cash exit for the private equity investor; and
The enlarged business is managed by the Drakefield Management team, all of whom retain a direct equity shareholding in it.