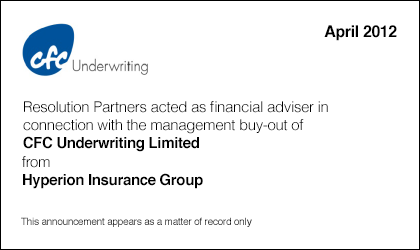 CFC was formed in 2000 by David Walsh, with backing from Hyperion Insurance Group, as an underwriting business focusing on insurance for technology companies and e-risk. It has grown into one of the leading MGAs in London with clients in over 50 countries around the world. The transaction involved the purchase of Hyperion's majority stake, together with the interests of certain other shareholders.
Key features of the transaction:
Transaction funded entirely with equity – provided by a small number of HNW individuals;
Existing management were able to realise some cash at Completion;
Attractive management ratchet negotiated – provides enhanced return to management at exit linked to performance;
All employees invited to participate in the transaction.